Raaaaawr! It's me Hydro! Let's get this newsletter off to a big bang!




That's right! The Dead Space KF mod has finally been released!
Read on for more info!

You can download the mod and everything else here!
http://www.mostimpressive.nl/DeadSpace


Warning! You'll need Marco's server perks too!
http://forums.tripwireinteractive.com/showthread.php?t=36065


Note from Hemi: Run your server with the custom gametype :
HMDeadSpaceMut.DeadSpaceKFGameType in startup line


Or go into single player mode and type :
open KF-BioticsLabgame=HMDeadSpaceMut.DeadSpaceKFGameType
in console



MOTM Interview:
Our interview with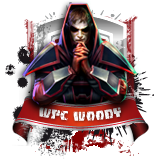 will be here next week, tune in!



Welcome Back:
Let's welcome our Northern Firebug Alpha back!


After his adventures in SWTOR, he came back to tell us his tales!



That's all folks! Remember, there's always a wolf in the woods,
and one watching Eurovision with Snooze!