Hey all, just like to start off by saying this is my first project in the KFed SDK. Go easy on me and remember this when reviewing the map!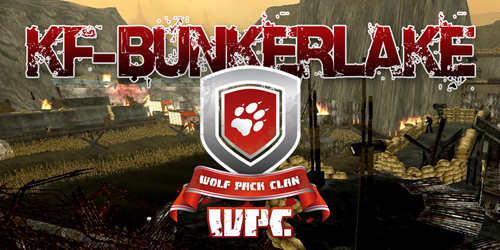 Made by WPC_sie & =Evans= ( Thanks to Fel for some help )
Players: 6 - 20
Time of day: Day
Screenshots:
http://steamcommunity.com/id/OrangeLu ... 69287134110210?tab=public
http://steamcommunity.com/id/OrangeLu ... 9287134102103/?tab=public
http://steamcommunity.com/id/OrangeLu ... 9287152882751/?tab=public
Map status:
I've done some initial beta testing with some clan members and it seems like I have manged to weed out the majority of the problems. It plays just fine in terms of spawning specimens and them acting like you would expect them to.
Background story of the map:
Two weeks after the incident in London, with the specimens on the loose, you've headed to the barren countryside. The pick-up you stole broke down, a loose spark engulfing it in flames just outside a makeshift metal stronghold. Stranded at the base of a quarry, you rush past a lake, and stay behind the walls of the stronghold. Movement and bubbles are coming from the middle of the lake that lies several metres outside your line of defense, have the specimens followed you here? And if so, how will you and your team survive?
Download link: > > > > >
http://www.mediafire.com/?lp43lpom3pjvtyf
< < < <
Report exploits/bugs:
If you would like to report any bugs you want fixing be sure to either contact me directly via steam message or posting it on this thread, thanks!
Contact info:
sie's steam name - iblock4fun
Myself and Evan have future plans to make follow on maps from this storyline, we welcome you to follow our progress as it's looking to work out quite nicely.
Find our maps early and perhaps help beta test by getting involved in the WPC community.
http://www.wolfpackclan.com
Posting any feedback at all good / bad helps me to improve, thanks!